Barnardo's Scotland: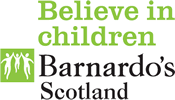 What does Barnardo's Scotland do today?

We're there for children who are scared when they go to sleep, those without the confidence to look forward, and those who are not able to speak out.

We no longer run orphanages. Instead we work with children, young people and their families in the community.

Barnardo's runs more than 122 projects across Scotland, giving vulnerable children and young people the practical and emotional support they need to deal with disadvantage.

Each year, Barnardo's Scotland helps more than 26,500 children and young people who are suffering from poverty, abuse, homelessness, disability, family breakdown, or substance misuse.

We protect them from harm, help them to cope with the challenges they face, and give them specialist support.

Barnardo's also campaigns for better care for children, and champions the rights of every child.

92 pence in every £1 we spend goes towards our work helping the UK's most vulnerable children, young people and their families.



Every child deserves the best start in life, and the chance to fulfil their potential. With the right help, committed support and a little belief, even the most vulnerable children can turn their lives around.



To see how you can support our work through taking part in events, fundraising activities and volunteering, visit:Barnardo's Scotland:



Barnardo's – Believe in Children


For more information contact:
Rebecca Schmidt, Corporate Relationship Executive
Barnardo's Scotland
Tel: (0131) 446 7035
e-mail:rebecca.schmidt@barnardos.org.uk>



&copy Barnardo's 2010 Barnardo's is a charity (216250 SC037605) and a company limited by guarantee (61625 England - see the governing document).